What Are Medical Adhesives?
Skin-safe medical adhesives and removers are commonly used for attaching a range of prosthetics and medical devices to skin. Our gentle, non-irritating formula ensures a comfortable and effortless application, making it ideal for common uses like external condom catheters and medical breast forms. Our adhesive is also in high demand among those with ostomy needs, thanks to its outstanding ability to create a superior seal that prevents leaks. Our solution is also gentle, safe, hypoallergenic, and easy on the skin, making it ideal for everyday use. We understand the importance of a gentle release that cares for your skin's health while delivering the reliability you need.
Skin-safe medical glue creates a strong bond between you and your medical device. Medical adhesive allows users multiple wears of adhesive medical appliances. This helps extend the life of medical devices and reduce waist.
What are medical adhesive Removers
Medical adhesive removers are formulated to remove medical adhesive. The
Skinister Prosthetic Medical Adhesive
is formulated specifically to remove
Skinister Medical Adhesive
. This medical-grade solvent is odor-free, non-skin irritating and non-sensitizing. It's commonly used to aid in the removal of mastectomy breast forms, ostomy appliances and cosmetic prosthetics from the skin.
Medical Adhesive Uses
Ostomy wafers can sometimes roll up along the edges or pull away from the skin. This occurs when adhesive begins to lose strength. Applying an additional thin layer of adhesive to replenish the hold's strength. This will also help prevent leakage, improving sanitation and reducing mess.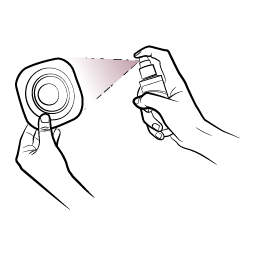 External condom catheters can utilize medical adhesive to create a more secure bond to the skin. This prevents the catheter from becoming loose and falling off. Securing a condom catheter with medical adhesive will prevent leakage and can increase the comfort of wearing the device.
How to apply prosthetic adhesive
Prepare your skin by washing with soap and water and allow your skin to fully dry.
Spray Skinister Medical Adhesive to the prosthetic. A thin coat of adhesive is usually more effective than a thick coat.
Allow Skinister Medical Adhesive to fully dry before applying to skin. The adhesive is suspended in solvent, which needs a few minutes to evaporate.
Press and hold the prosthetic firmly against the skin. Skinister Medical Adhesive is a pressure sensitive adhesive and maximum strength is achieved by applying pressure for several minutes.
Skinister provides a step by step guide to applying and removing Skinister Medical Adhesive and Remover.
Medical Adhesive Remover
Medical adhesive remover sprays help when removing adhesive medical devices. An adhesive remover will reduce the strength of an adhesive bond, giving users a more comfortable removal experience. By breaking down the strong glue, adhesive remove prevents you from having to pull these products harshly off your body.
Hollister Adapt 7730 Medical Adhesive Spray Replacement
Learn more about how Skinister Medical Adhesive Spray has the same active ingredients as the recently discontinued Hollister Adapt 7730 Medical Adhesive. This makes Skinister Medical Adhesive a perfect replacement.